by admin - June 4th, 2012.
Filed under:
Uncategorized
.
May is national "Better Hearing Month". We believe that hearing health and education is important at all ages.  In honor of this, Miracle-Ear reached out to the local school districts to participate in a coloring contest.   We would like to thank all of the participating schools, we received over 120 entries!
All entries received a prize.  As well as, eight 3rd place winners were awarded a free ice cream from Dairy Queen.  Six 2nd place winners received a free bowling at West Park Lane Bowling Alley.   The winner of first place received a new Nintendo 3DS!
First place winner, Kelsie Anderson, 8, from Matthews Elementary School in Sikeston, MO is pictured below.  Kelsie says, "I have hearing problems and sometimes I can't hear the teacher. Everyone should take care of their ears. "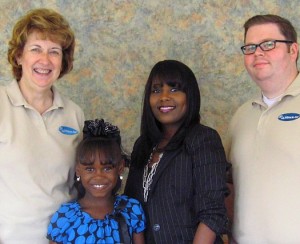 "We like to involve the children in Better Hearing Month and share some knowledge on taking care of your ears at a young age to prevent complications with their hearing health in the future", said Joyce Hill Cooley, franchisee of the Cape Girardeau Miracle-Ear Center.
Anyone is welcome to more information about "Better Hearing Month" or any hearing health information, call local at 573-335-5510 or visit our blog with information at www.4myears.com.